About the city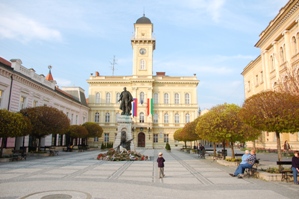 It is not only the southern-most but also the lowest-lying place in Slovakia. There are a number of acacia groves abound in nectar, willow woods and poplars by the rivers and some smaller sandy hills in the north east part of the region.





The region includes 40 communities and it has a population of 108911 who live on an area of 1045 square kilometers. It is one of the most fertile lands in Slovakia and as a result people grow grain, fruits and vegetables. It is famous for its natural reservations with a lot of different species of animals, protected flora and rivers with plenty of fish. The thermal spas which have therapeutic effects are used till late autumn. The region of Komarno provides the tourists with accommodation in five hotels, three guest-houses, three tourist houses and one car camping with a wholeyear`s operation.





Komarno is part of the Danubian route as much as the paprika seasoning is part of a fried Danubian dill. Barges, tugboats furrow the river the whole year unless they have to stop because of the low water level or ice. The passenger water transport which gives a chance to take in the country more thoroughly is also flourishing.